Its all downhill from here
Ever heard of the snowball effect in cars? It can happen to anyone at any time and It all starts by one mod. That one mod usually wants to be accompanied by others for example, a big turbo wants a big intercooler a bigger intake and so on. But if you embrace the landslide of mods instead of slowing it down, you might achieve something amazing. Or in this case a 1000 whp Mitsubishi Evolution.
Our friend Panayiotis was caught on the landslide of mods early in his life and boy did he went down the rabbit hole on this one. It all started with a humble Subaru, ver 5 and after driving the wheels off that one – almost literally – he jumped ship and joined the evo bandwagon.
Wasn't long enough until the basic stuff such an e manage exhaust and intercooler mods found their way on the vehicle, and before you know it was getting ready to run 8 second passes in Achna speedway (300 m) courtesy to 650hp and a straight cut gear gearbox. Horsepower is a serious addiction.
If you ever chased big numbers, you would know by now that getting there reliably is a whole new ball game. Being the addict, he is, 650hp wasn't enough and about 7 years ago he decided to sell every single part of the evo and turned into the ultimate street driven weapon . Did I mention that this machine is still road registered?

(a god damn miracle)
No this isn't some sort of clickbait. This is a 1000 whp Mitsubishi Evolution. 1055 whp and 95 kg/m of torque at 3.5 bar of boost to be exact, if you break it down that equals roughly to 264 hp per cylinder on a stock evo 8 block.
The engine hosts a ZRP  88 mm forged crankshaft, ZRP 156 mm rods and ZRP diamond high compression pistons. ACL bearings and ARP studs are used throughout the build. A modified oil pump and oil galleries along with a moroso oversize sump to always ensure that the engine stays lubricated.
Up to the engine hosts ferrea  +1 oversize valves along with ferrea   valve guides and beryllium valve seats. Kelford cams speced at 288/292 degree duration matched with aem adjustable cam gears and kelford retainers make the most out of the engine, at high rpm. Responsible for the engine is nikos afentolidis based in Crete. 
With great power comes a great need for boost, this is taken care by a massive 7275 precision gen 2 turbine. A custom-made manifold by Kakarakis feeds the beast whilst boost pressure is controlled by 2 44 mm tial external gates. In addition, A 3.5-inch titanium exhaust system was fabricated from Levakis exhaust. Lastly titanium hardware is used throughout.  
A hyper tune intercooler core with billet end tanks is used while boost travels towards a magnus intake. Worth mentioning that the throttle is a track formula item with the matching e -pedal. At closed throttle excess boost pressure is vented off via a tial 50 mm bov.
Fueling is arranged by 2200 cc grams injectors sitting on an aeromotive item.  Which is supplied from a 20L fuel cell using an aeromotive eliminator fuel pump.
A LINK ECU is tasked to control this organized chaos. Other additions made include an updated ignition system courtesy to aem smart coils  and a kiggly trigger kit. All these are connected via mil spec wiring which is custom made from headlights to taillights.
Making horsepower is one thing. Putting it down to the ground is another major part of going fast. Upfront a quaife front diff splits the power to the front wheels while a cusco 2 way is handling the rear end. Although the Achilles heel of any high powered evo is the transfer case. In this case a race-fab crossmember is used to fit newer gen evos (7-9) transfer box. Inside a wave track diff is tasked to handle the abuse while billet gearbox mounts are used.
The real party piece of this build is the drenth sequential gearbox. In its 5-speed guise paired with triple plate quarter master clutch kit it can provide light speed shifts while being able to handle the ridiculous power figures.
While the Lan-evo has huge amount of mechanical grip It takes more than that to keep it planted to the ground. Thus, D2 drag speced coil overs are used all around.
Staying on the suspension topic the anti-roll bars are removed for further weight reduction. If you have not guessed it already this car isn't really for the twisty stuff.
Contact with the ground is delivered by the ultra-light volk rays Te 37 measuring at 15×8 and weighting in at just 4.98 kg per wheel! Wrapped around them are M&H racemaster drag radial 235/60/15. Other than ridiculous amount of grip they offer a bitching stance.Another detail that the tech-nerd in me loved is the custom bead lock that was ordered with the new wheels. You've read that right these wheels have a bead lock system allowing for ultra-low tyre pressures.
As mentioned previously this machine is not built for the twisty staff. This meant willwood STM small brake kit with lightweight rotors could be used. Helping clear the 15-inch wheels and shed a couple of pounds during the process.Titanium hardware was also used for the lug nuts and driveshafts.
What are you actually looking at
Exterior wise this lan evo remains mostly stock apart from a carbon trunk lid with a spoiler delete.Some mods where made on the front bar to clear the massive intercooler and a guard was crafted for the front face turbo. Painted in Nardo gray by Sertis paintworks this is a simple recipe that looks the part.
To be honest I was expecting a stripped-out machine with a fix bucket seat and a race dash, but Panayiotis went the extra mile to make this vehicle as civilized as he could. This is a full interior car with the factory dash and door cards still in place. It even has a working radio!
Although the factory dials made way for a LINK RACE DASH which feeds all the information that the driver needs.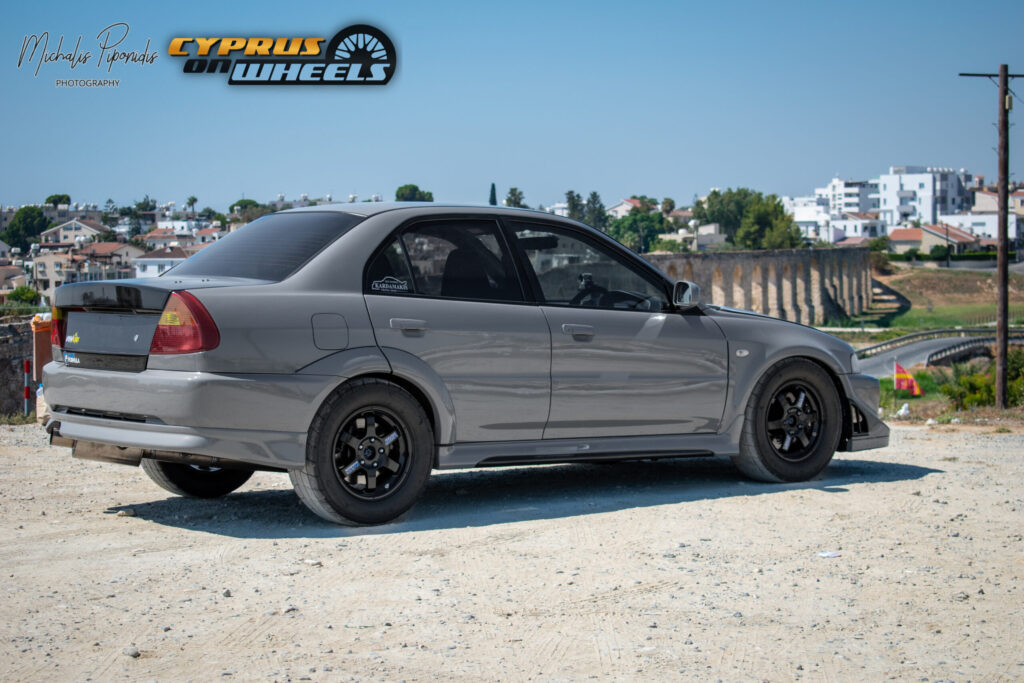 After the owner acquired basically every nut and bolt. The car – just a bare shell at the time- was shipped to Crete at kardamakis racing where it was finished entirely under a 6-month period. An impressive accomplishment when you look at the final result. The car is now  back in Cyprus but since we lack an actual quarter mile   the car is bound to go back to Crete to race at the next drag series. The owner still wants to do some upgrades soon but for the time being he is anxious to send this monster down the quarter mile.
Personally, I could not believe that there is this level of build in our island and I am extremely grateful that the owner was willing to share his 1000 whp Mitsubishi Evolution with us ! 
Photography : Mixalis Piponides, Odisseas Sophocleous 
Words : Odisseas Sophocleous 
A 1000 whp Mitsubishi lancer evolution in nardo grey.
Gallery
The owner wants to thank the following people that helped him achieve his dream.
Nikos afentoulidis
Ntzakis Alekos
Antonis Georgiou (rakitzis)
Pavlos gialouros
Christos Christofi (drakos)
Alex valavanis
Michalis Stylianou (cougar parts)
CAT-perfomance
Giorgos Skouris (Skouris tyres)
Sertis paintworks
Andreas tafouna
Adonis photiades
Antonis karataou
Nicks garage