The humble ae86 chassis is a chassis that was never meant to be great at motorsports let alone help invent one. But here we are 39 years later after its official debut writing a journal of how this little nugget managed to captivate the hurts of enthusiasts and introduce them to the sport of drifting.
People have been sliding cars around since the early days of motorsport but the foundation of drifting was set to stone by non-other than Keiichi Tsuchiya using the humble ae-86 platform.
Q&A with Panayiotis Kakkopas
Usually, when I write these stories I like to share the story of the owner with the car. But this being the car of a veteran drift driver and one of the first to compete in professional drifting in Cyprus I wanted to learn more about him and where drifting has taken him.
Q/ what made you start competing in drift?
A/ back in the day Kithreotis was hosting drift shows and I was hooked that very moment. After following the D1 championship for a while I knew I had to get in the action.
Q/ Why did you choose the AE 86?
A/ I always like it as a car, and I was heavily influenced by the Japanese since it was the most popular chassis back then for drifting.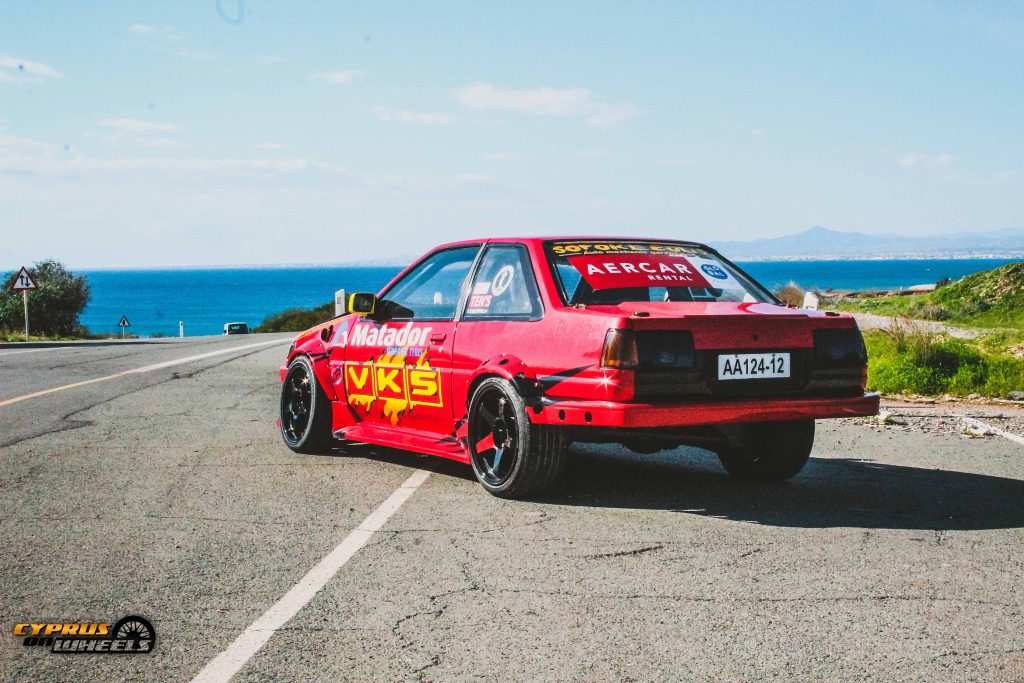 Q/ did you try other chassis as well or was it a Toyota only affair?
A/ I started with the Levin but then I switch to other chassis such as S13s and s14s and even an r32 skyline gtst. But eventually, I sold everything and stayed with the Levin.

Q/ What is a memorable scene that you have imprinted in your memory?
A/ A race that I will never forget was when I went to Serres circuit in Greece. It was one of the biggest tracks that I have ever drifted on. I initiated with speeds upwards of 100km/h. Yanking the e-brake at those speeds is something that I will never forget. it is also noteworthy that out of 75 cars racing that day most of them local to that track, I finished 17th overall.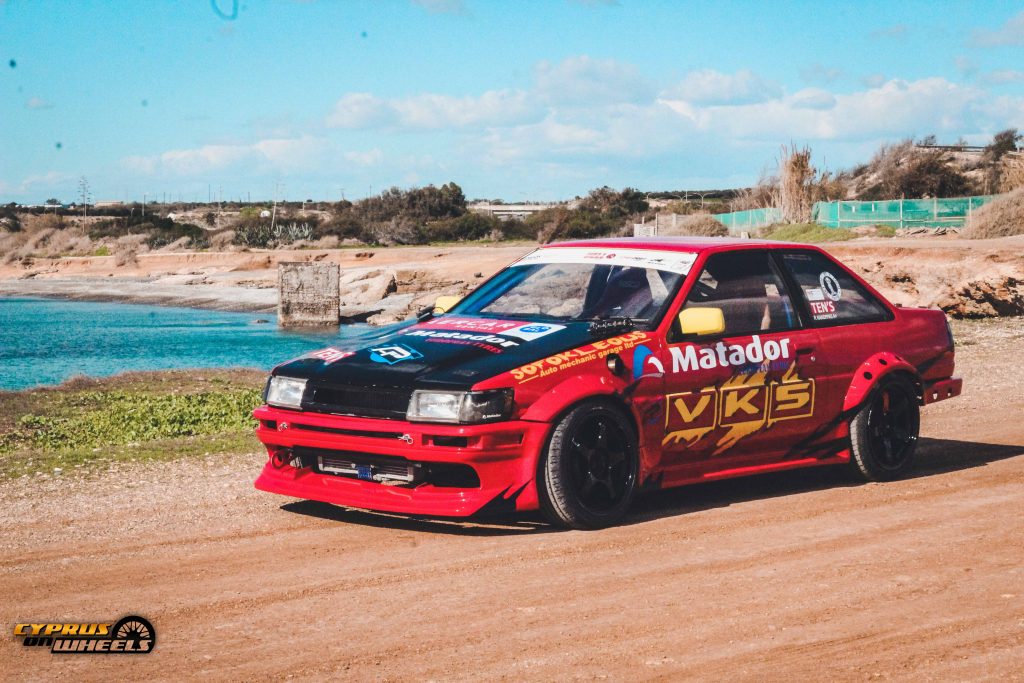 Q/ is there a chance of you returning to drifting?
A/ I might go back to drifting but not competitively. Attend a couple of races of the season just for the fun.
Q/ what does the future has in store for the LEVIN?
A/ Well the Levin will never get sold or be something more than what it already is. I will just enjoy watching it and go out for the occasional slide just to remember the old days.
Even in race car form, there is no mistaking the signature boxy look of the AE 86 Levin platform.
In this particular case room was needed for some grippy tires to be fitted and of course to make room for all that steering lock. Thus some custom over fenders were crafted.
Upfront a cut-up D-max fibreglass front bar tries its best to hide the big intercooler and steering oil cooler.
and up rear well there isn't much Toyota left- because drift car. The car was of course painted in house at VKS as well as the fitting of all the body panels that hold on for dear life.

As every race car what's under the skin is the fun part and this one is no exception.
Pop the hood and you will find an SR20det taken from an s13 silvia. well more like an SR23 DET since this engine is built using a 91mm stroke crankshaft and 89mm CP pistons.
Sitting on a Cosworth gasket up top the cylinder head is treated to Tomei cams along with adjustable Tomei cam gears and Tomei valve springs.
While the SR20 looks right at home in the engine bay of the Levin the exhaust was cut short meaning it is just a dump pipe on the side fender. It is loud, to say the least, but not healthy for the passenger-ask me how I know.
Power goes through a rb25det turbo gearbox mated onto the sr20 using a custom bell housing and ends up on a Mitsubishi Pajero rear end.
Yes, you've read that right. If you know your Toyotas you will know that the ae86 used a live axle setup and, beefing it up to handle drift abuse with 17inch grippy Bois and a 2.3l with a tiny turbo:read-ultra responsive: is no easy task.
Thus Mr Christos Sofokleous at Sofokleous garage which was responsible for this build when it was originally been built back in 2003.
mated the Pajero rear – a factory LSD with disc brakes units onto the AE 86. a couple of trips to the machine shop to make some adapters from 6×139 to 4×114. Potentially my favourite part of this build.
The interior is what you expect to find in a dedicated race car, a serious roll cage, bucket seats, factory door cards, and a factory dash that now houses all the important gauges and switches.
plus the all important **Quick release fuel tank** Because Drift car.
The early days of drifting
Despite my age, I was lucky enough to get involved in the world of drifting thanks to my cousin from the early days. The days that a souped-up ca18det s13 and a turbo M20B25 e30 pushing 300-400 hp could win a pro-level race.
This build reminds me of that era, back when balls to the wall driving were more important than 1000whp drag cars going sideways.
Words and photography : Odisseas Sophocleous